JOHN GRISHAM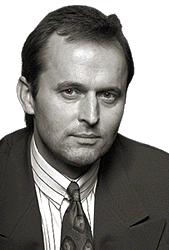 Born Feb 8, 1955 in Jonesbury, Arkansas.
Married to Renee and have two kids; Ty and Shea.
Now lives in Mississippi.
---
NOVELS SO FAR:
A Time to Kill (1989)
The Firm (1991)
The Pelican Brief (1992)
The Client (1993)
The Chamber (1994)
The Rainmaker (1995)
The Runaway Jury (1996)
The Partner (1997)
The Street Lawyer (1998)
The Testament (1999)
---
Favourite novel: The Runaway Jury


A tobacco trial with hundreds of millions of dollars at stake begins ordinarily enough, then
changes. A strange behaving jury, jurors are being watched. And someone is trying
to get a certain verdict - and he is a centre figure....

---
LINKS TO FAN PAGES:
FAN MAIL:
c/o Writers & Artists Agency
924 Westwood Blvd, Ste. 900
Los Angeles, CA 90024
U.S.A.

---

Updated 2001-11-01