MARIESTAD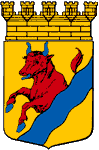 Mariestad - a small town in Sweden, located right next to the largest lake in the country, Vänern. It is called "The Pearl of Vänern". It´s considered dull and quiet by many, but it´s also a superb summer town with the lake right in our laps, lots of great beaches everywhere and a lively marina. Also we have a large archipelago.
There are about 25,000 people in and around town (about 15,000 in the town). Major industries are Electrolux, Metsä Tissue and SCA Packaging.
Nature is all around us and nobody lives far away - biking distance everywhere. I´ve borrowed a few photos of the town from some local photographers. Links for the photos below.
Peter Legendi, photo page here

Stefan Svensson, photo page here