MONY´S
MUSIC FAVOURITES


Music - who can live without it!
I usually have something going - the radio, CD or TV.
I got an extensive record collection with 500 something vinyls,
lots of singles and close to 500 CD´s,
which contain everything from classics to punk rock.
My favourite era is probably the 60-70- 80´ies.
My boyfriend tends to have a completely different taste,
but we´ve managed to find some common records to play...


Below are a few links to some of my favourites - a little bit of everything.

Check out what CD´s I´m playing right now & get good tips!

And next - enjoy my Happy Dance!
Don´t miss this page!

---

Asta Kask (S)
This is my brother´s former punk rock group. They were the hottest group
in Sweden and still have lots of fans. His page is also really good,
but he closed the English section due to lack of visitors. BUT - I hear
from a very good source that a new English site is on its way.....
The site has original MP3 Asta music to download.
A source for Swedish punk rock in the 80´ies:
Bosses Sound (S)
A Swedish punk rock archive:
Diapazams punkrockarkiv (S)

---
Beach Boys Fan Club Home Page
Unofficial fan site - BeachBoys.com
My favourite group through my teens and up til 25 or so.
Was really lucky to see them in San Francisco 1982,
something I´ll never forget.




---
Eros Ramazzotti Official Web Site
My favourite Italian voice next to Andrea Bocelli.

---

Andrea Bocelli and Bocelli Online

What can I say - this voice has it all. Listen & enjoy!

---
Queen Online.com
Queen gives me so many memories, from years way back
and from not so long ago. It´s just a fact - these are the guys
I grew up with. I´ve never seen them and wish I had.
This homepage is fantastic, it´s worth a long visit.

---
Sting
I saw Sting in Sydney 1988, absolutely fabulous.
I´ve loved the Police since I saw them in San Bernadino in '82
and again in Stockholm in '83. Better than Stones...
Check out some Sting photos here!

---
Cher Official Web Site
I have always liked Cher a lot, in music as well as in movies.

---
Cajsa-Lisa Ejemyr heaven(s)
Lovely new Swedish voice, a new favourite of mine.
---

Di Leva (s)

Thomas Di Leva, another Swedish favourite. A true original.

---
The Penguin: Fleetwood Mac
Fleetwood Mac were also in San Bernadino in '82
(The US Festival), very professional and very good.
I play their Greatest hits all the time.


---
Frank Zappa

---
Madonna
---
Shania Twain and this one
---

AC/DC Electric Shock
Always liked these guys!

---

Official Homepage of Dr Bombay
Crazy....
---

The Offspring
Grrreat rock!

---

ABBA
This site is very good, go visit!

and more Swedish music here:

Ted Gärdestads Hemsida
Ted, you will be remembered, always.

---
The Finkers
From Australia, great rock music and I´m proud to know the founder.

---
Gordon Production
Lots of karaoke files to download and lots of lyrics.
Here you can also find some Swedish kar.-files.
---
Tons of karaoke songs. Download for instance Star 3,
get a mike and enjoy (we have Star 3 and Real Orche, both are good).
Anything you need for your karaoke party, you can find it here.

---
Swedish Karaoke (s)
A new Swedish karaoke site with st3-files.

---

Top 500
A great collection of list music including lyrics and midis.

---

Kiss this guy
Such a fun page! Read about the singing mistakes we all have made.

---

Good stores on-line:

Record Heaven
Ginza Musik
Paletten
---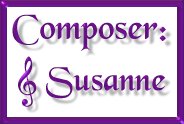 Updated 2002-04-29